---
The Faethorne House

This imposing building was erected about 1875 by Col. Robert F. Faethorne. It is located on the most easterly of the five farms into which the land grant of Henry Jones, Faethorne's father-in-law, had been divided. Thus it was called the "East Range" while the most westerly, beside the Brigden Side Road, was named "West Wind".

In 1829, Henry Jones received a tentative grant of 10,000 acres along Lake Huron to found a settlement. Jones was a follower of Robert Owen, the Scottish social reformer, so the settlement called Maxwell was operated on communal lines. By 1834, the scheme had failed, the community house had burned and Jones and his family commenced to farm the land grant which he received as a retired naval officer.

Robert Faethorne married Jones' daughter, Elizabeth, and farmed the East Range. He was interested in race horses and imported trees to beautify his property. Robert took an active part in the militia and in 1862, he was promoted to full colonel to command the local military district until after the Fenian alarms of 1866 and 1868.

Built of local material, the house was designed for comfortable living and gracious entertaining. With two daughters and a son, the Faethorne's took their place among the lakeshore gentry.

On Faethorne's death in 1897, the house was sold to Angus Jamieson. In 1921, it was purchased by H.F. Holland who restored it and the grounds. In 1934, it achieved notoriety when John Labatt, of the brewing family, who had rented it for the summer, was kidnapped on his way to London.

In 1938, the house was sold once more. Under the name of Wildwood, it began a long career as a summer resort and golf club. By 1978, it was badly in need of repairs when it passed into the hands of Sarnia Township. It was restored to its present condition and started a new life as the Bright's Grove library and Gallery in the Grove which it remains as, to this day.
---
Garden Dedication
The Commemorative Garden… in the spring/summer of 2005, in partnership with the City of Sarnia, the landscaping around the Faethorne House was re-designed and all new gardens were planted with flowering plants and shrubs. A plaque now stands in the garden dedicating it to the founding members of the gallery.
---
Presentation to Gallery in the Grove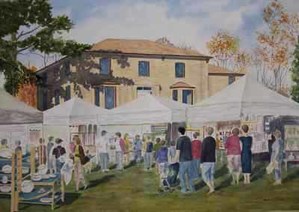 This beautiful watercolour painting of Faethorne House and Art in the Park was donated to the Gallery by local artist Tony Wright, a longtime member of the Sarnia Artist's Workshop. Tony and his wife Eileen will be relocating to London very soon to be closer to family and wanted to present this lovely gift to us in celebration of past happy associations with Gallery in the Grove. We are delighted to receive this special remembrance